Pin It
Sherwin Williams Color of the Year is Exclusive Plum. It's a sophisticated version of violet; purple with a touch of grey. It's a color that men and women will like. SW suggests pairing it with copper, but I tend toward cool colors. It would be scrumptious with pale greys, hammered silver and deep fern green
PPG went in a different direction with their color of the year. They chose Turning Oak Leaf, a buttery shade of yellow.
This pale, mellow color is a refreshing change from all the bright and saturated colors we've seen in recent years.
It will go with almost any color palette. I would love to see it paired with Exclusive Plum.

Benjamin Moore went with Breath of Fresh Air, a crisp sky blue. They are calling it their new neutral. Although it will go with many other colors, I'm not sure I would go so far as referring to it as a neutral. But it is a lovely shade of blue that makes me wish it were summer.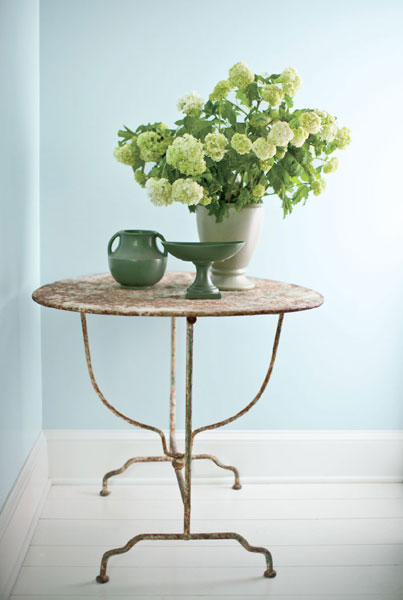 Pantone went with Radiant Orchid, a vibrant, bright fuchsia. This is my least favorite color choice for 2014. And I love pink and purple! I can see this shade in a girl's room, but only as an accent color, in very small doses. I don't have too many clients ready to paint the family room in orchid.
Let me know what you think of these colors. Which one would you decorate with?