Pin It
Valentine's Day is right around the corner, but it's not too late to make personalized gifts for the loved ones in your life. These simple projects are made from sweaters I found at Goodwill.

The easiest idea are wine bottle covers. Just cut off a sleeve to fit, sew up the bottom and embellish!
No need for a card this year. The pink wine "cozie" sports a traditional VD greeting. Glue Scrabble tiles to a sturdy ribbon and add a vintage pearl necklace (two gifts in one!).

Or give someone special the key to your heart. For this one, I tied on a leather "chain" with vintage key and added a bracelet.  Personalize your gift with little charms or pieces of jewelry.
Don't forget Mom on Valentine's Day.  Every woman loves flowers. Send her a bouquet in a custom designed vase. Using the front of an animal print sweater, I wrapped it around a rectangle shape jar (the perfect style for tulips). Hem the raw edges so it doesn't ravel or if you don't sew, use glue.
If your Mom is anything like me, her coffee gets cold before she finishes a cup. Keep her coffee warm with a mug cozie made from the cuff. Make sure you use the finished edge at the top. Then sew up the bottom with a running stitch and cut a slit on the side for the handle. I embroidered a simple heart, but you could add more charms or pins. Something just for Mom.
There is no end to the gifts you can make for the special people in your life from sweaters.
I would love to hear your DIY ideas for Valentine's Day gift ideas.

Pin It
Winter is a great time to start planning (dreaming?) about redecorating a room in your home. Why not consider designing a room in one of the new colors for 2014? If you aren't quite brave enough to do the whole room, consider using one as an accent color.

Radiant Orchid, Pantone Color of the Year
Radiant Orchid is actually rather calming in this lovely master bedroom. When balanced with lots of white, the color doesn't become overwhelming.
Or upholster a sofa with straight, clean lines. The stripes are very dramatic and contrast beautifully with the wallpaper and ottoman.
Or as an accent color like these dining room chairs.
Exclusive Plum isn't as bright as Radiant Orchid, so is an easier color to paint on the walls. What do you think about pairing it with lime green?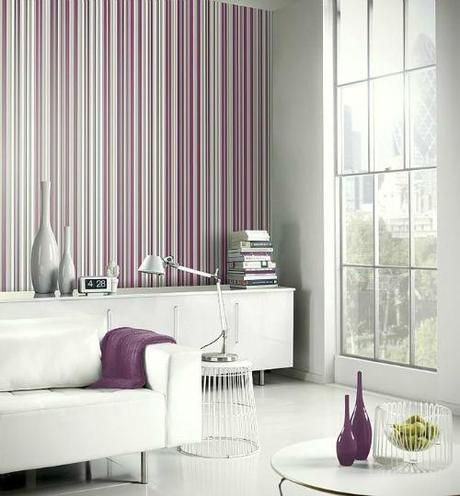 Another white room with just a touch of Plum. I don't know about you, but I love stripes.
A Breath of Fresh Air. Isn't that what we all want after a long winter? Another white room (I must be ready for spring)!
Or throw in shades of orange.
 If you're not quite ready to commit to a bold color, then try PPG Turning Oak Leaf  on walls, as an accent color or even on the front door for a refreshing change.
Which color would you choose?
Pin It
Wedding season may be months away, but it's never too soon to start designing table settings and party favors, especially if you plan to make them yourself.  Table center pieces for the reception or bridal shower can be personalized to match your colors or theme.
I found everything for this elegant table decoration at Goodwill.
Instead of buying fabric by the yard, look for lace blouses in colors to coordinate with your theme. Choose tops with a bit of spandex. A little stretch makes the project easier to do.
Start collecting wine and water glasses. They don't need to match, just pick ones that have a similar look in a variety of sizes. I liked the look of stemware with straight sides and they're easier to work with than curved glasses.
Coat the glass with a thin layer of Mod Podge (or make your own with equal parts white glue and water). Cut the lace to fit and attach to glass. You might have to hold it in place while it dries. Trim the top edge even with the rim.
Arrange the trio on a charger and scatter baubles or ornaments. The result is a high-end centerpiece, but you did it yourself!
Tips:      
Remember to work with odd numbers

Look for coordinating chargers, plates or trays

Fill in with "jewels" or marbles, confetti, beads, pearls, whatever goes with your style.
Pin It
Sherwin Williams Color of the Year is Exclusive Plum. It's a sophisticated version of violet; purple with a touch of grey. It's a color that men and women will like. SW suggests pairing it with copper, but I tend toward cool colors. It would be scrumptious with pale greys, hammered silver and deep fern green
PPG went in a different direction with their color of the year. They chose Turning Oak Leaf, a buttery shade of yellow.
This pale, mellow color is a refreshing change from all the bright and saturated colors we've seen in recent years.
It will go with almost any color palette. I would love to see it paired with Exclusive Plum.

Benjamin Moore went with Breath of Fresh Air, a crisp sky blue. They are calling it their new neutral. Although it will go with many other colors, I'm not sure I would go so far as referring to it as a neutral. But it is a lovely shade of blue that makes me wish it were summer.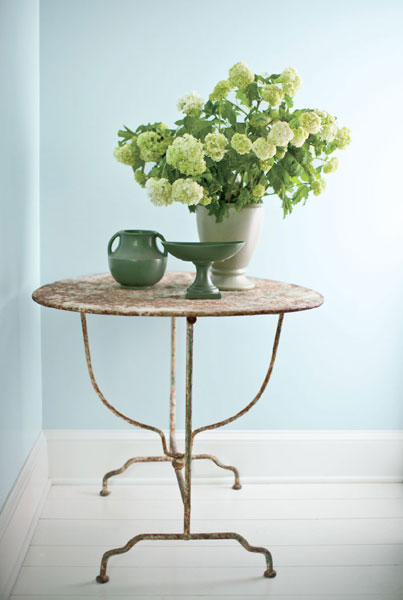 Pantone went with Radiant Orchid, a vibrant, bright fuchsia. This is my least favorite color choice for 2014. And I love pink and purple! I can see this shade in a girl's room, but only as an accent color, in very small doses. I don't have too many clients ready to paint the family room in orchid.
Let me know what you think of these colors. Which one would you decorate with?
Pin It
Decorating for Christmas is a lot more fun than taking down the tree. Safely storing your ornaments and finding a place to put everything until next year is always a challenge.  You're on your own for un-decorating and finding closet space, but I can help you with some storage solutions.
To keep lights untangled, you need something sturdy and durable.

Like old picture frames! They don't bend. Use the twist ties from trash bags  to keep the plugs in place.  Small frames will fit in shirt boxes with sheets of tissue paper between each layer. 
Or save the tubes from wrapping paper or paper towels.  Wrap the strings of lights evenly around. Tuck the plug into the end of the tube and secure with tape.

Ornaments are more fragile.  Egg cartons or old ice cube trays are perfect for small balls.
Lay them gently in each section and cover with tissue paper (left over from your gifts).
For bigger ornaments make card stock dividers cut to fit sweater boxes.
Cut slits half way through the piece of cardboard and fit them together.
Each ball stays protected in its own section.
Use larger boxes for bigger decorations. If you run out of used tissue paper, use left over wrapping paper.
Label the outside of each box and next year decorating will be a cinch!
Happy New Year!