Pin It
I love furniture, especially hand-made furniture and one-of-a-kind pieces. On a recent shopping trip to Goodwill, I found a couple of over-sized lamp shades and immediately knew what to do with them.

I bought two bell shaped shades. One is a little taller than the other and one is wider at the bottom. Both have the same diameter at the top so they fit together perfectly. The overall height, when stacked is 25" by 18" diameter. The perfect size next to a bed or chair.
Remove all the fabric from the frames. Then cut off the fitter from the bottom shade (that's the 3-section wire frame piece that allows you to attach the shade to the lamp and finial).
Then I purchased 5 or 6 tops in coordinating colors. Choose cotton or cotton blend shirts. Heavy knit t-shirts work too. Tear the shirts into strips 3"-4" wide (cotton rips easier than polyester or silk). You might have to use a scissors to cut the knit fabric, but don't be too fussy or neat. I like the raw edges you get from ripping fabric.
At the top and bottom, fold the strips of fabric to the inside and pin. Sew the strips in place with a "running" stitch. Cut off the excess fabric, so the hem is even and neat. Repeat until both frames are covered. Tie the opposite ends to both frames (at the middle) to hold the frames together.  I knotted the pieces on the outside. It becomes a random ruffle.

Top it off with a round glass top, available for a couple of dollars at a home improvement store. Or make your own top using a round tray.

Not only do you have an original piece of furniture, but you can brag that you did it yourself!
Pin It
Have fun dressing Easter eggs with your kids this year. I'm not sure why, but fake mustaches are very popular. Personalize your eggs with markers, hats, rhinestones and mustaches!

Ombré paint style is also very popular in interior design and fashion. I've even seen the look on fabric, wedding cakes, even fingernails. It's a gradual change in color from light to dark (or vice versa). Or a graduated change from one color to another.
These eggs are easy to do, although a little messy. Mix dye according to package directions (I used food coloring), but fill cups with less water. It easier to hold the egg in the dye solution at the halfway mark. Gradually lift it out until you get layers of color. (The egg will be darker at the bottom). Repeat on the other end.
Make funny faces on your colored eggs, one for each member of the family. Use a permanent marker to draw mustaches and lips. Personalize each with giggly eyes, rhinestones and hats.
For the ladies, draw in eyelashes; add feathers and a mini Easter basket. Be sure to make place cards so Grandma knows which one is hers!
Pin It
It's time for spring! The calendar says so but Mother Nature isn't cooperating. I'm ready to shed my winter coats for cute little dresses and summer sandals. In the mean time, we can drool over beautiful interiors and decide how we will redecorate this year.

This bright pink, white and black living room is the work of Portuguese interior designer Maria Barros.  Too much pink? I love the nail-studded benches in the front.
Or, how about these calming shades of blue accented with a big punch of yellow? This Madrid apartment is refreshing with it's mix of pieces from various 20th century decades. Notice how the balcony umbrella matches the accessories. I want those lamps!
Maybe softer, serene colors are more your style. Lovely shades of coral, pale, pale blue and luscious cream. I'm not a big fan of pastels (I can't wear these pale colors either) but they sure are pretty and fresh.
Which palette do you like best?

Pin It
Valentine's Day is right around the corner, but it's not too late to make personalized gifts for the loved ones in your life. These simple projects are made from sweaters I found at Goodwill.

The easiest idea are wine bottle covers. Just cut off a sleeve to fit, sew up the bottom and embellish!
No need for a card this year. The pink wine "cozie" sports a traditional VD greeting. Glue Scrabble tiles to a sturdy ribbon and add a vintage pearl necklace (two gifts in one!).

Or give someone special the key to your heart. For this one, I tied on a leather "chain" with vintage key and added a bracelet.  Personalize your gift with little charms or pieces of jewelry.
Don't forget Mom on Valentine's Day.  Every woman loves flowers. Send her a bouquet in a custom designed vase. Using the front of an animal print sweater, I wrapped it around a rectangle shape jar (the perfect style for tulips). Hem the raw edges so it doesn't ravel or if you don't sew, use glue.
If your Mom is anything like me, her coffee gets cold before she finishes a cup. Keep her coffee warm with a mug cozie made from the cuff. Make sure you use the finished edge at the top. Then sew up the bottom with a running stitch and cut a slit on the side for the handle. I embroidered a simple heart, but you could add more charms or pins. Something just for Mom.
There is no end to the gifts you can make for the special people in your life from sweaters.
I would love to hear your DIY ideas for Valentine's Day gift ideas.

Pin It
Winter is a great time to start planning (dreaming?) about redecorating a room in your home. Why not consider designing a room in one of the new colors for 2014? If you aren't quite brave enough to do the whole room, consider using one as an accent color.

Radiant Orchid, Pantone Color of the Year
Radiant Orchid is actually rather calming in this lovely master bedroom. When balanced with lots of white, the color doesn't become overwhelming.
Or upholster a sofa with straight, clean lines. The stripes are very dramatic and contrast beautifully with the wallpaper and ottoman.
Or as an accent color like these dining room chairs.
Exclusive Plum isn't as bright as Radiant Orchid, so is an easier color to paint on the walls. What do you think about pairing it with lime green?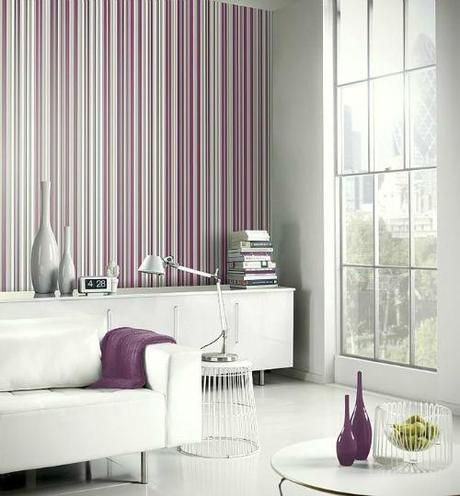 Another white room with just a touch of Plum. I don't know about you, but I love stripes.
A Breath of Fresh Air. Isn't that what we all want after a long winter? Another white room (I must be ready for spring)!
Or throw in shades of orange.
 If you're not quite ready to commit to a bold color, then try PPG Turning Oak Leaf  on walls, as an accent color or even on the front door for a refreshing change.
Which color would you choose?